Springdale Family Dental uses the latest technology to create and maintain beautiful and healthy smiles. We are pleased to offer our patients the following family and cosmetic dental services.
Implant Dentistry
If you are missing one or more teeth and wish to eat your favorite foods, increase your chewing ability, and improve your appearance, speech, and self-esteem, then you are a candidate for dental implants.


Springdale Family Dental thoroughly examine patients' existing teeth and bones, upper and lower jaws and gum tissues before recommending implants. Implants replace the roots of lost teeth and are inserted under the gums. After 3-6 months, the bones grow around and adapt to implants as if they were natural roots. Once the implants are firmly in place and the surrounding gum tissue is strong, they are ready to support a crown or restored tooth. When the process is completed, the "new" teeth are often hard to tell apart from a patient's original teeth.
Dental implants are a safe, medically proven, esthetic alternative to traditional crowns, bridgework and dentures. Because implant restorations look and feel just like natural teeth, they offer new levels of comfort, security and confidence over traditional treatments. Call our office to learn more about dental implants.
Cosmetic Dentistry
The first thing most people notice is your smile. We offer a variety of advanced techniques to create the smile of your dreams. Call us today to learn how we can give you the smile you deserve. We love to do Extreme Makeover Cosmetic Cases.
DaVinci Veneers & Lumineers
If you teeth are chipped, broken, or discolored, porcelain veneers are a great way to change the color and shape of your teeth. A porcelain veneer is a covering over the tooth that gives natural color and bridges small gaps. Veneers can be a great alternative to braces for slight orthodontic problems and provide a beautiful smile in a short amount of time.
Click here
to learn more about DaVinci Veneers.
Bleaching - Teeth Whitening
Springdale Family Dental uses a variety of teeth whitening techniques, including Zoom 2 and Brite Smile, to get your teeth their whitest and brightest. Zoom 2 teeth whitening is the revolutionary in-office process that gets your teeth their whitest in just 45 minutes. Our in-home teeth whitening kits are easy to use and great results are achieved in 4 to 6 weeks.
Call our office to learn more about our teeth whitening options.
Tooth Colored Fillings
Inlays and Onlays are tooth-colored restorations that are used in place of silver fillings on the chewing surfaces of back teeth. This approach has become very popular because silver (mercury) fillings are not safe and are less attractive. We do not do Amalgam Mercury Fillings.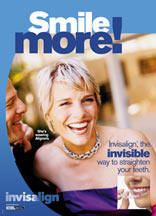 Invisalign (Orhtodontics)
Springdale Family Dental has advanced training and participates in many hours of post graduate study pertaining to orthodontics and invisible braces. With new techniques some orthodontic cases can be completed in as little as 10 months. Thanks to CAD CAM technology, Invisalign is able to transform smiles in months without wires. Some orthodontic cases will need traditional braces, but with modern technology even traditional braces are less noticeable and more comfortable then ever. Orthodontics is changing and more patients are finding that braces are not just meant for children.
Infection Control
Springdale Family Dental is OSHA compliant, and follows the same OSHA sterilization recommendations for hospitals.